- Michael Thorpe Now Claims He is Innocent -

Associated Press - February 10, 2006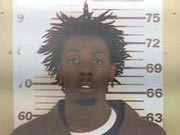 Michael Thorpe
Savannah, GA - A Savannah man charged with murder in the Christmas Eve shooting of 19-year-old debutante, Jennifer Ross, declared "I'm innocent" in a jailhouse interview published Friday.

Michael Thorpe, 25, told the Savannah Morning News that police arrested him in the slaying of Jennifer Ross because he refused to answer investigators' questions.

"I have no idea why they think I did it," Thorpe said. "Because I'm black, I'm guilty. I feel it's a racial thing going on."
A mugger shot Ross in the back in the city's downtown historic district hours after she danced with her father, a local hospital executive, at Savannah's Christmas Cotillion. She died from her injuries New Year's Day.

The slaying galvanized Savannah business leaders to call for a crackdown on crime. But the outcry over the death of a young white woman from a prominent family has been racially polarizing in city where most residents, and most murder victims, are black.

Savannah-Chatham County Police Chief Willie Lovett said Friday his detectives have enough evidence to link Thorpe to the slaying. He declined to be specific, saying he did not want to disrupt the investigation. (more - see article)
http://www.ledger-enquirer.com/mld/ledgerenquirer/news/local/13840449.htm