Comment:
What with the discovery of Paul Cortez' diary, in which he admits killing Catherine Woods, it looks as though the district attorney has enough evidence to convict Paul Cortez of murder in the stabbing death of Catherine Woods, although he is still stubbornly denying it. Cortez has been charged with second-degree murder, despite the fact that his actions were not only premeditated but that the actual murder was also particularly cruel, both of which factors would require a charge of first-degree murder.
Murder in the second degree is, however, still an A-1 felony, which carries a potential sentence of life in prison. This means that Cortez will likely be facing a 25-year to life sentence. The State of New York does not have capital punishment. On June 24, 2004, the death-penalty statute of New York State was declared unconstitutional. I, however, am of the opinion that in light of Cortez' written admission is his diary, where he writes not only that he killed Woods, but also he implies, before he killed her, that she would be better off dead. This clearly indicates that he acted in a premeditated way, and that the District Attorney of the City of New York should change the charge to murder in the first degree. When Cortez when to Woods' apartment on that fateful evening, he surely went with the intention of killing her.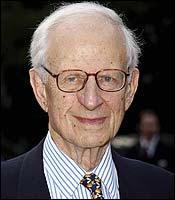 If you, the reader, also have concerns regarding the legal justification of the charge of second-degree murder, I urge you to contact the District Attorney's office for New York City and advise them that you think the charge against Paul Vincent Cortez should be changed to first-degree murder, for the reasons cited above. The District Attorney's office is headed by 86-year-old Robert M. Morgenthau (photo). Call the following telephone number: Special Prosecutions Unit (212) 335-8900. You'll likely not reach Mr. Morgenthau himself, but, if you do, the gentleman is hard-of-hearing, so you should speak slowly and clearly.
There was definitely a clash of cultures involved in the meeting of Catherine Woods and Paul Cortez - the Latin and the Caucasian. Latins are very often quite religious and therefore tend to follow rigorous religious dogma in the conduct of their lives. Cortez went even beyond the mainstream religious code provided by the Catholic Church, which is the religion of most Latins. In his diary, he invokes ideas from a sacred book of the Hindu Religion called the Bhagavad Gita. These writings are followed by the Hindu Sect referred to as Hare Krishnas. The Hare Krishnas used to harass people in airports in an attempt to panhandle money - until many airports banned them. The fact that Cortez believed in the views of this Hindu sect, which include human sacrifices, should have been a warning sign for Catherine Woods. She should have broken off the relationship and, if Cortez harassed or stalked her, she should have had a restraining order issued against him.
There are many disadvantages to living in a multicultural society, and the horrible murder of Catherine Woods demonstrates this very clearly. America has always been praised as the melting pot of the world. However, we must keep in mind that this is only an analogy, which is used metaphorically to speak of America in a high-minded way. But this analogy only indicates a similarity in some way. A melting pot is actually a cauldron used in a factory or foundry to melt metals. The cauldron is heated to a very high temperature and metals are thrown into it so that they can be melted, in order that the molten metal can be used to make a new product.
But melting pots (cauldrons) are used almost exclusively to melt the same type of metal - copper is not thrown in with steel, and lead is not thrown in with aluminum. If this were done, the flames under the melting pot would have to be turned up so high, in order to get such disparate metals to fuse, that the melting pot itself would melt. And this is exactly what is happening in America - if one takes this analogy and carries it out to its fullest extent. When you put two people from two completely different cultures together, before you can form a bond between them you will have to turn the flames under the melting pot up so high that there is a good possibility that they will both be destroyed.
And applying this melting-pot analogy to the whole of the society: when you put people from so many different racial, religious and ethnic groups together, before you can create a social bond between them you will have to turn up the flames under the melting pot so high that the melting pot itself is eventually going to melt. And that is exactly what is happening to America - America, as a melting pot, is itself melting. What was once a dream has turned into a nightmare. The great experiment, known as America, is melting, it is blowing up in our faces, and most of the population does not realize that this is what comes from multi-culturalism. Every clash of two different cultures, such as the Woods/Cortez clash, ends in the destruction of both of the individuals. It is not just Catherine Woods whose life has been destroyed, Paul Cortez could well spend the rest of his life in prison. And, all of this, because Catherine did not realize that there was such a cleft between the Latin and the Caucasian cultures, and because Paul Cortez was trying to impose his rigid, moral code on Catherine.
The message to be learned in this case, as in so many others, is to stick to your own kind. Quite evidently, we Americans have become too free; we have become so free that we think everything is possible. But the laws of nature shall prevail. America is not a melting pot. Every couple that has ever tested this claim has been taught a hard lesson. Most do not end in murder, but it is usually only the high-profile murders that we hear about. Many people have sacrificed their identity by jumping into the cauldron known as the American melting pot. Many others have sacrificed many years of their lives. And others, such as Catherine Woods and Paul Cortez, have thoroughly destroyed their lives by defying the laws of nature - thinking that anything is possible. Our advice to you is not to be led astray. Follow your natural instincts, and, in so doing, you will be obeying the laws of nature. You will be eternally thankful that you did.
Yours Faithfully, Liberty